This post is for all of you who, like me , love to relax in a thermal SPA, in fact Geneva is an ideal place to discover many beautiful thermal baths places in France and in Switzerland.
Here below the list of my favorite SPA , in Switzerland , these places are between 1 and 2 hrs driving distance from Geneva , so they are ideal for one day trip
My favorite SPA's in Switzerland, close by Geneva area, are :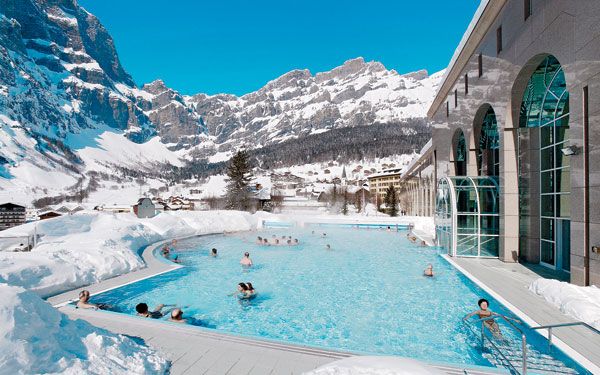 copyright alpentherme.ch
Leukerbad -Loeche Les Bains

is the

largest thermal spa resort in the Alps

. with several SPA centers. The very

picturesque mountain

village can be easily reached by car in 2 hrs driving from Geneva with most of the journey via motorway and the the last 20 kms of a quite curvy road. If you want to go by train it will take about 3 hrs, you will first arrive in Leuk and then you have to take a bus to the village. Once in Leukerbad my strong recommendation is to stay in the Alpentherme hotel that is directly linked to the AlpenTherme SPA, for me this is one of the most beautiful SPA where I have ever been, in terms of location, with the big open air pool surrounded by the very steep mountains, breathtaking! Many treatments are available at good prices. The Alpen Therme SPA is a public one, so you don't have to stay in the hotel to go there. There is another big SPA in Leukerbad with a big waterpark for kids, for me the two places are not comparable, meaning that the Alpentherme is by far superior in location and atmosphere.
Charrmey , Bains de La Gruyere , one of the most recently built SPA in Switzerland located at about 1.5 hours from Geneva , easily accessible by car and by train . The SPA is small and beautiful with the panoramic open pool surrounded by the nearby Gruyere valley. This SPA facilities are very modern and nice ,Many treatments are available - at a charge. Charmey is a very charming village in one of the nicest areas of Switzerland so a trip to the SPA can be combined to a visit of the Gruyere Castle or of the Cailler Chocolate Factory.
Yverdon Les Bain

,

is one of the most ancient Thermal bath in Switzerland and in Europe in fact the bath existed in 1st Century AD , the village is at 1 hr from Geneva easily accessible via motorway and by train , the village is nice and the castle is very well preserved. In Yverdon, differently than in Leukerbad there is only one Thermal SPA

area , the Wellness Center is adjacent to the Grand Hotel , and it offer several treatments- at a charge- and a beautiful large pools.
copyright bainsdelagruyere.ch
copyright postauto.ch