Today I would like to start a series of posts about possible ways to spend a week end travelling to destinations that are not too far away from Geneva (2-3 hours driving maximum).
My first suggestion would be to go to Leukerbad and enjoy the beautiful thermal baths and then while you are there to have a short trip to the village of Albinen, about 6 kms from Leukerbad.
Albinen is a very small village whose position on a steep mountain and whose beautiful wooden and stones mountain houses are unique and deserve a visit.
Alpentherme Leukerbad
Here is my suggestion for the week end :
Day 1
leave Geneva in the morning , take it easy and arrive in Leukerbad after 2.5 hrs 3 hrs driving ; Leukerbad can also be reached by train but car is definitively the best way. I have talked about this thermal bath station in another post because I love this peaceful village where you can relax and recharge your batteries after an hard week of work.
At Leukerbad I would definitively recommend to stay at the
Heliopark Hotel
( former Lindler Alpentherme hotel) a good 4 stars hotel that is directly connected to the beautiful bath and offer special packages that include the entry to the baths.
After half day at the beautiful thermal swimming pool you can relax and take an aperitif and a dinner at the
Lounge 1411
a nice restaurant and bar where food is good although not cheap (ask a window table)
Day 2
in addition to the
relaxing baths you can have one of the many beautiful walks in the spectacular mountain paths ; one of these is the lake tour that can be accessed via the
Gemmi funicular
, that reaches 20160 mts, the ride by itself is worth the trip.
www.gemmi.ch
However if you have one hour free I would definitively recommend to visit Albinen , 6 kms ride , via a very narrow scary road or 30 minutes by Leukerbad small bus (shuttle bus timetable is available at your hotel or at the bus station in Leukerbad) .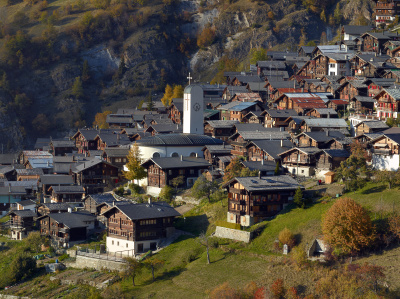 Albinen is a jewel and it's an unforgettable experience , time there seems to have stood still in the last century with the beautiful tiny houses in dark wood and stones , each of them different from the others, and the narrow steep streets where no vehicle can access, just stop in the middle of the village, close your eyes and breath the silence ! Fantastic!!
Once a year , normally in June, Albinen celebrate the
Heritage Day
when the people of the village recall their ancestors and attach outside their houses the pictures of their family members and their simple lives in the mountains. The past week end was the heritage day so I had the great honor to experience the celebration , a very touching feeling that I will recall for a long time.
Last but not least, if you would like to stay in Albinen then you should definitively stay in the B&B
Godswärgjistubu Wirtshaus
, (website in German only, they speak English and French ), an incredible place with 4 rooms only and a very charming and romantic restaurant , this place offers special packages (meditation and zen, romantic, vegetarian cooking lessons and so on ) that will make your stay unforgettable