aples most popular attractions in Spaccanapoli district www.notizie.coumuni-italiani.it
Geneva is the perfect place to explore Europe thanks to its location and to its Easyjet European hub.
This post is about visiting Naples , one of my favorite destinations , and the trip below is the very same one I did in April. I hope you can find it useful and that you will enjoy Naples as much as I did .
Italians use to say "
See Naples and Die
" and they mean that after you have seen Naples you have seen everything in your life so you can die in peace.
Naples cannot be described it has to be experienced. It's a city full of contrasts , magnificent buildings and old bad maintained areas that seem to collapse in the next second, elegant avenues and chaotic narrow streets.I love almost everything about this city although I know that one thing is to visit it as a tourist and another thing is to live there.
Hotel Chiaja de Charme www.chiaiahotel.com
Day 1 :Naples ,
try to get an early flight and once you arrive at the new beautiful Naples airport take an official white taxi to the city center, asking for the fixed rate not to have surprise if you get blocked in the traffic. Drop your luggage at your hotel and start exploring the city. I recommend to stay in a hotel close to Pizza Plebiscito, my favorite one is
Chiaja Hotel de Charme,
located at the first floor of an ancient building in the central pedestrian Chiaia street, the hotel is still owned by the aristocratic family and preserved the atmosphere from the last century with rooms that differ from each other and are furnished with antique furniture.
Walk through via Toledo and reach
Spaccanapoli,
the ancient street that "breaks the heart of Napoli in two ", this street reveals the ancient and true soul of Naples and shows a city that it is as it used to be many decades ago, walk through the narrow streets and watch every little corner or artisan shop, despite whta you might think, all what you see is authentic and not for tourists :) .
On your way from the hotel to Spaccanapoli , visit
Chiostro St Chiara
part of a much bigger monuments
area that at includes building from the XXIII centuries. If you don't have too much time, I would suggest that you focus your visit on the cloister
with its incredible majolica tiles columns decorated in the XVIII century and its magnificent gardens.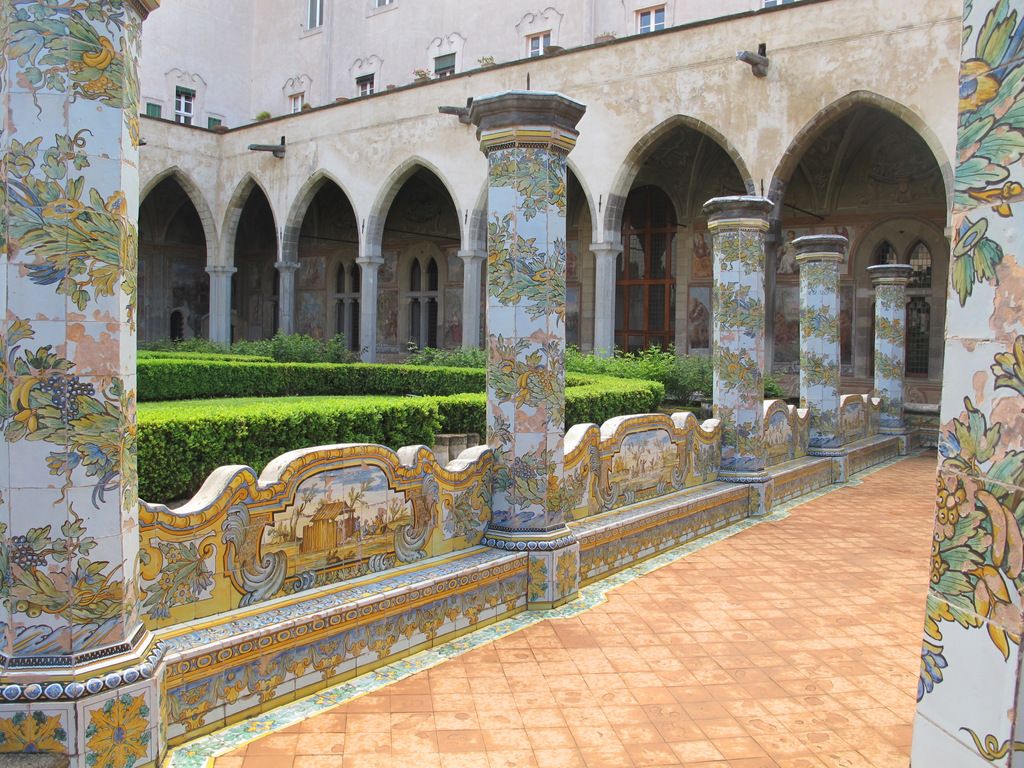 Cloister St Chiara Naples
Naples is a city full of history and most monuments are restored or very well preserved you will find churches that are worth visiting at almost any angle of the city.
It's lunch time , so it's time to stop in one of the most famous pizzeria in Naples that are 5-10 minutes walk from the Cloister, you can choose one of the super-famous pizzerias
Sorbillo
or
Di Matteo
that make the best pizza in Naples (and hence in the world) and be patient, the queue is going to be long at any time of the day; just give your name and number of people to the man at the entrance and wait outside till when someone will shout calling your name, normally at lunch time the average waiting time is 30-45 minutes.
After lunch continue walking in Spaccanapoli towards the
Veiled Christ Chapel,
probably Naples' most fascinating and mysterious attraction, the legend says that the veil over Christ 's face was a tissue that was turned into marble by a special liquid invented by the Prince of San Severo who wasn't only a very rich noble but also an alchemist. The Chapel is a masterpiece of the art of the XVII and XVIII centuries and it's full of mysteries and symbols.
Veiled Christ Chapel - www.corrieredelmezzogiorno.it
If you are not in a hurry , then you shouldn't miss a visit to
Underground Naples
forty meters below the lively streets , this is a different world that it's 2400 years old and whose origin are back to the foundation of the ancient Neopolis where any following century up to the WWII has left marks on the yellow tufo stones. Guided tours in English to this fascinating world in take place every day at fixed timing, check the website for more information.
image of Underground Naples from www.imperatoreblog.it
Time to go back to the hotel and refresh before going out again towards the waterfront to have a nice walk in
Corso Caracciolo
and admire the view of
Castel DellOvo (Ovo castle) ,
dated XXIII Naples most spectacular castle, built on a small island directly linked to the city .
Castel Dell'Ovo - Ovo Castle www.italia.it
Enjoy a seaview aperitif at the trendy
Vanilla caffe
and then have a dinner in one of the restaurants in the area surrounding the castle, this is a small village inside the town , worth seeing it .I have heard that
La Scialuppa
is a very good one, however I haven't experienced it.
After dinner go back to your hotel walking through Piazza del Plebiscito and the nreaby area, one of teh most beautiful in Naples, and if you aren't tired , stop at t
he Caffe del Professore
for
a coffee or to taste one of Naples best cakes , le sfogliatelle, that are always served warm.
Day 2 Pompei and Herculaneum .
Wake up early and take a taxi to the nearest
Circumvesuviana
station of Porta Garibaldi to get the train to Pompei, buy a day ticket and take into account taht it will take at least 40 -60 minutes to get there.
I think that Pompei is so famous that it's not needed to describe it, I would instead use this post to highly recommend you to take a private guided tour to optimize your visit to this beautiful and very big historical area . I have hired a private guide from the company of
Emiliano Tufano Pompeiin
and the experience was fully worth the investment (about 240 Euro/day) in fact our guide was very well prepared and helped us focusing on the not to miss places /artistic jewels while visiting both Pompei and Herculaneum where I had never been before and that I found as spectacular as Pompei . I suggest you let your guide to lead the day, they are the experts , we trusted our guide's advice completely and we were extremely satisfied! The visit of the two sites will last the full day and at the end you will be exhausted , take enough water with you , it's not possible to find anything to buy inside the two sites.
Villa dei Misteri Pompei www.inforaffreschi.com
The typical guided tour starts with Pompei and ends with Herculaneum so you will take the Circumvesuviana train there and arrive to the same station where you started your trip in the morning , take a taxi to your hotel , to relax a bit and then get out again to have an aperitifs in one of the nice places at the end of Via Chiaia (exiting your hotel on the right) and have a nice dinner in one of the nearby restaurants that the hotel will suggest.
Day 3 Capri ,
you
have had intense but tiring two days so I would suggest you spend the third day visiting Capri (Ischia is a good alternative in case) relax and enjoy the beautiful seaside and panorama. Walk from your Hotel to the Beverello Pier to
get a fast boat (aliscafo) to Capri
, in summer there are boats every 30 minutes you can also pre-buy the ticket online. The trip will last 45 minutes so you can easily manage a short but meaningful overview of this worldwide famous Island in a bit more than half a day .
Have a look at what to see in Capri in one day website
Alternatively you can take a fast boat from the same pier to Ischia , although the island is big and full of great natural attractions so it and would deserve a 2 days visit. I will write about Ischia in a separate post .
Back to Capri walk to your hotel and get your luggage and take a taxi to the airport , watchout during the day traffic in Naples is chaotic so it can take 1 hour to get there, fly to Geneva where you will arrive late night or stay another night in Naples and take the first very early Easyjet flight the morning after.
Capri seaview www.capritourism.com